Bukola Bolarinwa: Bloodvocate!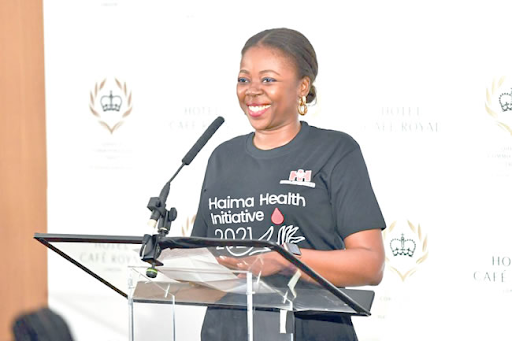 Our #OnePerson for the month is Bukola Bolarinwa, a 35-year-old Sickle Cell and Blood donation Advocate.

She was born with Sickle Cell Disease (SCD) and was always warned by her parents not to engage in certain activities to avoid falling ill at a younger age; it wasn't until her teenage years that she fully grasped the extent of her condition.

With this knowledge and the support she got from her family in navigating the illness, she grew up with a constant nudge to help the Sickle Cell Community, one way or the other.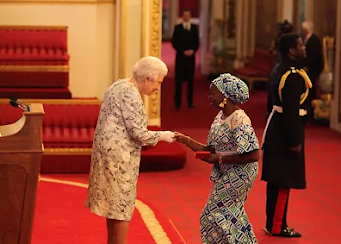 Bagging a first degree in Law in the United Kingdom, she met Nkechi Azinge at the Nigerian Law School in Bwari. Over time they bonded over their shared experience with SCD; as Nkechi had three siblings with sickle cell disease.

In 2011, she partnered with Nkechi Azinge, the founder of the Sickle Cell Aid Foundation (SCAF), a non-governmental organisation established to raise awareness about sickle cell disease and related health conditions; and became the organisation's president.

In 2012, SCAF began the Know Your Genotype Campaign (KYGC) in Abuja and quickly gained reach to other states.
So, far they have carried out over 10,000 free genotype tests across 5 states in Nigeria and reached over 15,000 persons. In addition, SCAF runs the Sickle Cell Club Scheme (SCCS) to set up sickle cell clubs in secondary schools and offer free medical support and tuition fee payment to students found to have SCD.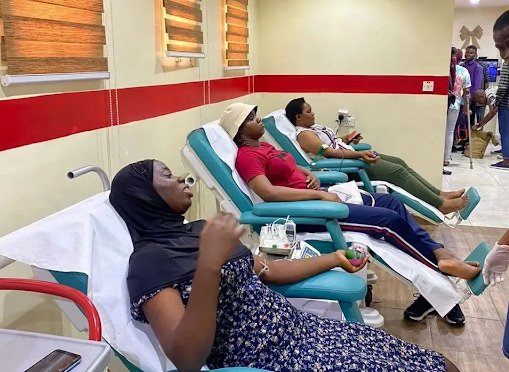 During her volunteer days in hospitals, she noticed a chronic shortage of blood plaguing the health sector and got frustrated with it. She also discovered a general superstitious outlook on blood donation, especially among young people.
This inspired her to make a change.

In 2015, Bukola founded Haima Health Initiative (HHI), Nigeria's first online donor register, to plug the blood supply gaps for sickle cell patients in Nigeria.

The Organisation carries out monthly blood drives to universities, public events, and religious organisations for voluntary blood donations. During its first year, the register gained more than 1,000 prospective donors and linked over 500 donors across 8 states in Nigeria with patients in urgent need.

When the pandemic struck in 2020, Bukola through HHI organised blood drives by transporting donors to blood banks in their local governments.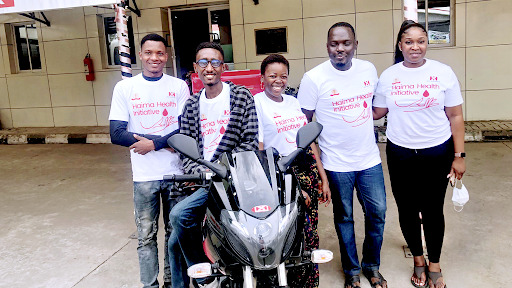 So far, HHI has over 3,000 registered donors and has collected over 2,300 pints of blood. The initiative has partnered with organisations like Total Energies, Uber, Fidelity Bank, GE Healthcare, etc. and helped over 2,000 patients.

Bukola still retains her positions at SCAF and HHI till date, and her goal is to "increase the number of voluntary blood donors and create a culture of donation devoid of superstition, especially amongst young persons."


Awards and Fellowships
Bukola Bolarinwa has garnered a few awards and a fellowship in recognition of her work.
She was awarded by the Future Awards Africa in 2016, in the category of Philanthropy and Advocacy.
Later on, in 2017, she received the Queen's Young Leaders Award; and became a fellow of the Obama Foundation Africa Leaders Program in 2019.

We celebrate you, Bukola!
We look forward to further impact from you.
To join the 'ONE PERSON' campaign:
Upload a post or short video to Instagram/Twitter/Facebook and TikTok where you talk about how 'ONE PERSON', whether it's yourself or someone you know, is leaving a lasting FOOTPRINT in your community.
Tag us on the post @eienigeria.
Use the hashtags #OnePerson and #ChangeAgent in your upload.
Submit the link to the upload in the form below, whether it's your own or a nomination for someone else who is making a positive impact.